Diploma in Aircraft Maintenance Engineering
JPT/BPP(R3/525/4/0020)09/27, (MQA/A8305)

Total Tuition Fee
RM 50,390.00

Duration of Study
2.5 Years
7 Semesters

Intake Period
JANUARY / MAY / JULY / OCTOBER
Introduction
The affordability of air travel has led to a significant growth in the air carrier industry, creating a huge demand for aircraft maintenance staff. Suitably qualified personnel, especially those allowed to certify the aircraft's airworthiness, are highly sought after and command high salaries.
This Diploma incorporates the European Aviation Safety Agency* (EASA) syllabus, preparing you for the EASA Part 66 Category B1 or B2 license examinations. You sit for the EASA license examination at the same time as you pursue your diploma, which is the first step in gaining a full EASA license. As part of the course, you will undergo guaranteed industrial attachment with our aviation partners.
*The European Aviation Safety Agency is the centerpiece of the European Union's strategy for aviation safety, promoting the highest common standards of safety and environmental protection in civil aviation. Visit www.easa.eu for more information.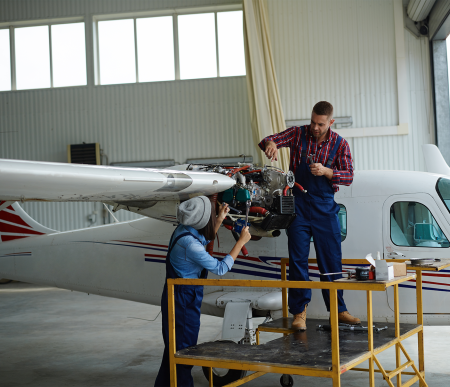 Diploma in Aircraft Maintenance Engineering
Entry Requirements
| | |
| --- | --- |
| SPM | A pass with credit in three (3) subjects including Mathematics and one (1) Science / Technical / Vocational subject AND pass in English |
| O-Level | A pass with minimum Grade C in three (3) subjects including Mathematics and one (1) Science/Technical/Vocational subject |
| UEC | A pass with at least Grade B in three (3) subjects including Mathematics and one Science / Technical / Vocational subject AND a pass in English |
| Vocational / Technical Certificate | A pass with a minimum CGPA of 2.00 and 1 year working experience in a related field or completed one (1) semester of an academic enhancement programme |
| Certificate in Engineering/ Engineering Technology (Level 3, MQF) | A pass with a minimum CGPA of 2.0 |
English Language Requirements* (for international students)
| | |
| --- | --- |
| MUET | 3 |
| IELTS | 5.0 |
| TOEFL | 500 (PBT) / 61 (iBT) |
| Pearson | 36 |
*International students with qualifications from educational systems where English language is the main medium of instruction are exempted from this requirement.
International students who do not fulfil the English Language Requirements may join the Intensive English Programme at Nilai University which builds their skills in the language and prepares them for the IELTS examination.

Health Requirements
All offers are subject to the student being certified by a medical practitioner as fit to be accepted into the programme and not having any of the following medical/physical conditions:
Color Blindness
Hearing Defects
Asthma
Programme Module
Common Core
Aviation Legislation
Basic Aerodynamics
Human Factors
Materials and Hardware
Mathematics
Physics
Discipline Core
Aircraft Electrical Systems
Aircraft Hydraulics and Pneumatics
Aircraft Landing Gears and Brakes
Airframe Structures
Air Conditioning , Cabin Pressurisation and Oxygen Systems
Digital Techniques and Electronic Instrument System
Electrical Fundamentals I
Electrical Fundamentals II
Electronic Fundamentals
Instrument and Avionics Systems
Maintenance Practices I
Maintenance Practices II
Theory of Flight and Flight Controls
Turbine Engine and APU
Elective
Elective Modules Set 1
Engine Lubrication, Fuel and Air Systems
Engine Operation and Maintenance
Propeller
Elective Modules Set 2
Aircraft Autoflight System
Aircraft Communication System
Aircraft Navigation System
Summative
Mata Pelajaran Umum (Compulsory)
Co-Curriculum
Food and Culture OR Environment and Development in Malaysia
Graduate Preparatory Course
Penghayatan Etika Dan Peradaban (Malaysian Students) OR Bahasa Melayu Komunikasi I (International Students)
Industrial Training
Malay Language (Only for Malaysian students without a credit in SPM BM)
English Language
Academic English with Research
Programme Educational Objective (PEO)
The aims of the field are to produce aircraft technologists who:
PEO 1
Possess practical and technical knowledge which includes numerical and digital skills which will contribute towards the human capital in aircraft maintenance engineering technology related industries.
PEO 2
Possess effective leadership and communication skills with the contemporary technologies to meet the standards of aircraft maintenance industries.
PEO 3
Possess hands-on competency of good interpersonal and entrepreneurial skills, with high ethical and professionalism which contributes to the development of aircraft maintenance industries.
Programme Learning Outcomes (PLO)
On completion of the programme, students will be able to:
PLO 1
Apply mathematical and technical knowledge in understanding the fundamental, principle of aircraft related systems.
PLO 2
Analyse well-defined engineering problems in aircraft maintenance engineering.
PLO 3
Formulate solutions to well-defined aircraft maintenance technical problems.
PLO 4
Assist in the formulation of systems, components or processes through digital application to meet specified needs.
PLO 5
Conduct independently investigations of well-defined aircraft maintenance problems.
PLO 6
Apply appropriate practical skills, techniques, resources, and aircraft engineering tools to well-defined aircraft maintenance engineering activities, with an awareness of the limitations.
PLO 7
Demonstrate leadership awareness and consideration for societal, health, safety, legal and cultural issues and their consequent responsibilities.
PLO 8
Communicate effectively with the engineering community and society at large.
PLO 9
Function effectively with interpersonal skill in a diverse technical team.
PLO 10
Demonstrate an understanding of professional ethics, responsibilities and norms of engineering practices.
PLO 11
Demonstrate an awareness of aircraft maintenance engineering management and entrepreneurial skills.
PLO 12
Demonstrate an understanding of the impact of leaderships in aircraft maintenance engineering practices, taking into account the need for sustainable development.
PLO 13
Recognise the need for professional development and to engage in independent and lifelong learning.
Programme Pathway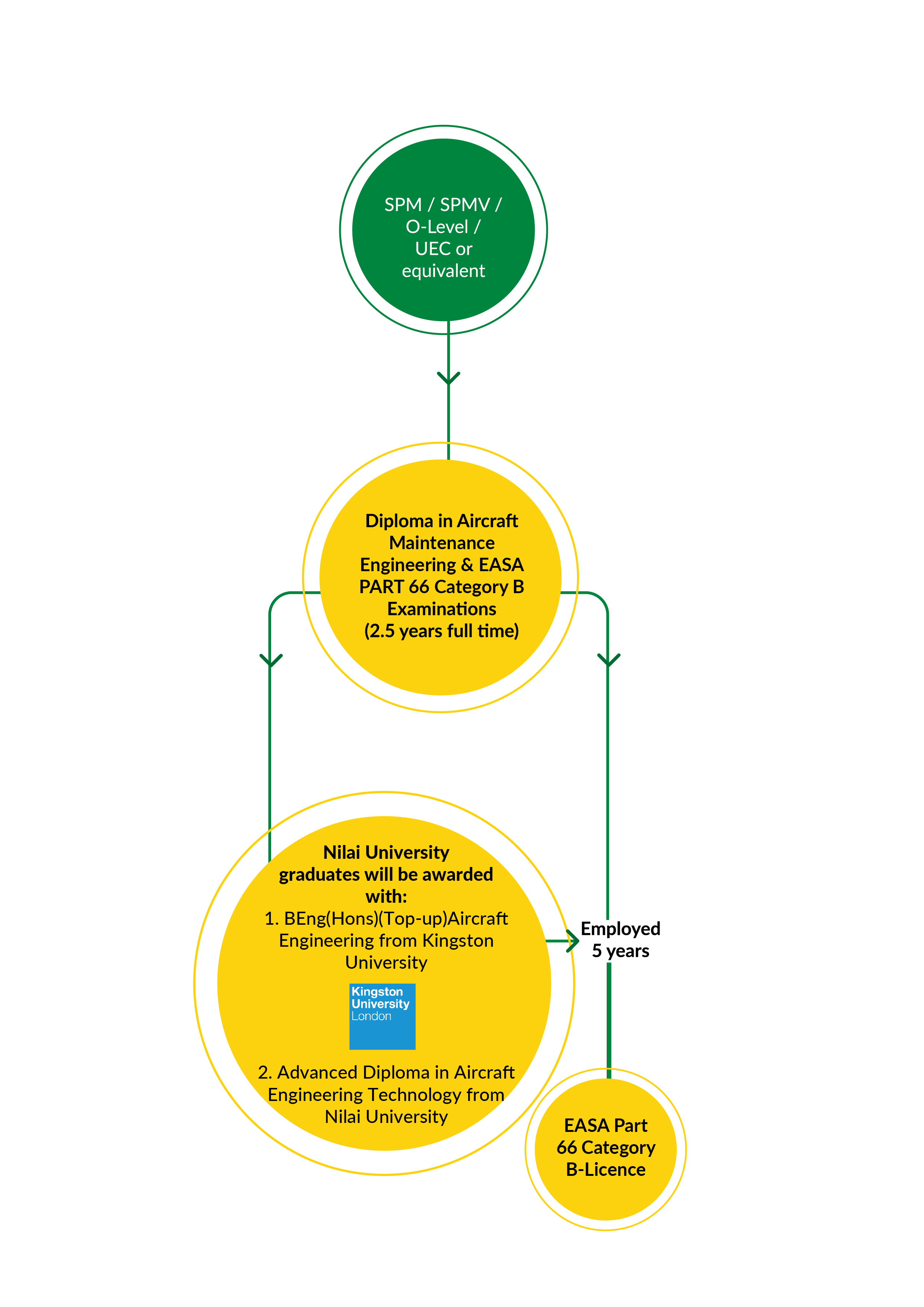 Career Prospects
Here are some career options after you've graduated in Aircraft Maintenance Engineering:
Aircraft Maintenance Technician
Aircraft Maintenance Engineer (Mechanical)
Aircraft Maintenance Engineer (Avionics)
Aero Components Repair Technician
Quality Assurance Engineer
Airworthiness Inspector
Technical Service Engineer
Scholarship
Nilai University offers scholarships for students from various backgrounds, with the goal of helping students grow to be well-rounded and ambitious individuals and allowing them to reach their goals through quality education. We achieve this by combining academic excellence with a growth mindset for life-long learning.