B.B.A. (Hons) in International Business
JPT/BPP(R2/345/6/0295)08/23, (MQA/A9109)
Introduction
There is currently an increasing demand from employers worldwide for global managers, who are able to promote a worldwide view of business. This programme aims to expose you to the concepts of international business, focusing on the issues that affect the success of companies operating in the international area. You will learn to think in the business context of another trading nation and study how business is carried out across a wide range of newly emerging markets. You will also gain understanding of the various business practices of the more affluent nations and learn new techniques arising from working with people with a wider range of business cultures.
Intake Periods
Entry Requirements
| | |
| --- | --- |
| STPM or equivalent | 2Cs and pass Mathematics and English in SPM |
| UEC | 5Bs including Mathematics and English  |
| Foundation / Matriculation | CGPA 2.00 |
| Diploma/Advanced Diploma (Level 4/5, MQF) | CGPA 2.00 |
English Language Requirements
(for international students)*
| | |
| --- | --- |
| IELTS | 5.5 |
| TOEFL | 453 (PBT) / 46 (iBT) |
| Pearson | 51 |
| MUET | 3 |
*International students with qualifications from educational systems where English language is the main medium of instruction are exempted from this requirement.
International students who do not fulfill the English Language Requirements may join the Intensive English Programme at Nilai University which builds their skills in the language and prepares them for the TOEFL examination.
Programme Module
Foundational
Core
Introduction to Financial Accounting
Principles of Microeconomics
Introduction to Finance
Introduction to Management Accounting
Principles of Management
Introduction to Marketing
Law for Business
Essentials of Information Skills
Quantitative Methods for Business
Business Communication
Principles of Macroeconomics
Managing Human Resources
Developing Management Capabilities
Strategic Management
Organisation Behaviour
E-Business
Marketing Principles and Practices
Marketing Management
International Business Law
Research Methods
Entrepreneurial Business Planning
International Business
International Finance
Perspectives on Corporate Strategy
Global Marketing
International Logistic
International Management
International Management of Human Resource
Capstone
Mata Pelajaran Pengajian Umum
MPU1A
Tamadun Islam & Tamadun Asia OR
Bahasa Melayu Komunikasi 2
MPU1B
Hubungan Etnik OR
Pengajian Malaysia 3 (Malaysian Studies 3)
MPU2A
Graduate Preparatory Course OR
Personal Branding**
MPU 2B-F
(Choose 3 University Courses from Cat. B-F)
B
C
Public Speaking
Introduction to Theatre and Acting
D
Critical Thinking
Professional Development
E
General Anthropology**
General Philosophy**
General Psychology**
General Sociology**
F
Introduction to Golf
Outward Bound
MPU3
Ethics and Social Responsibility
MPU4
Industrial Training
Malay Language
(only for Malaysian students without a credit in SPM BM)
Bahasa Kebangsaan A
Free Electives
Integrated Business Processes Using SAP-ERP
** subject to availability
Read More
Read Less
Programme Pathway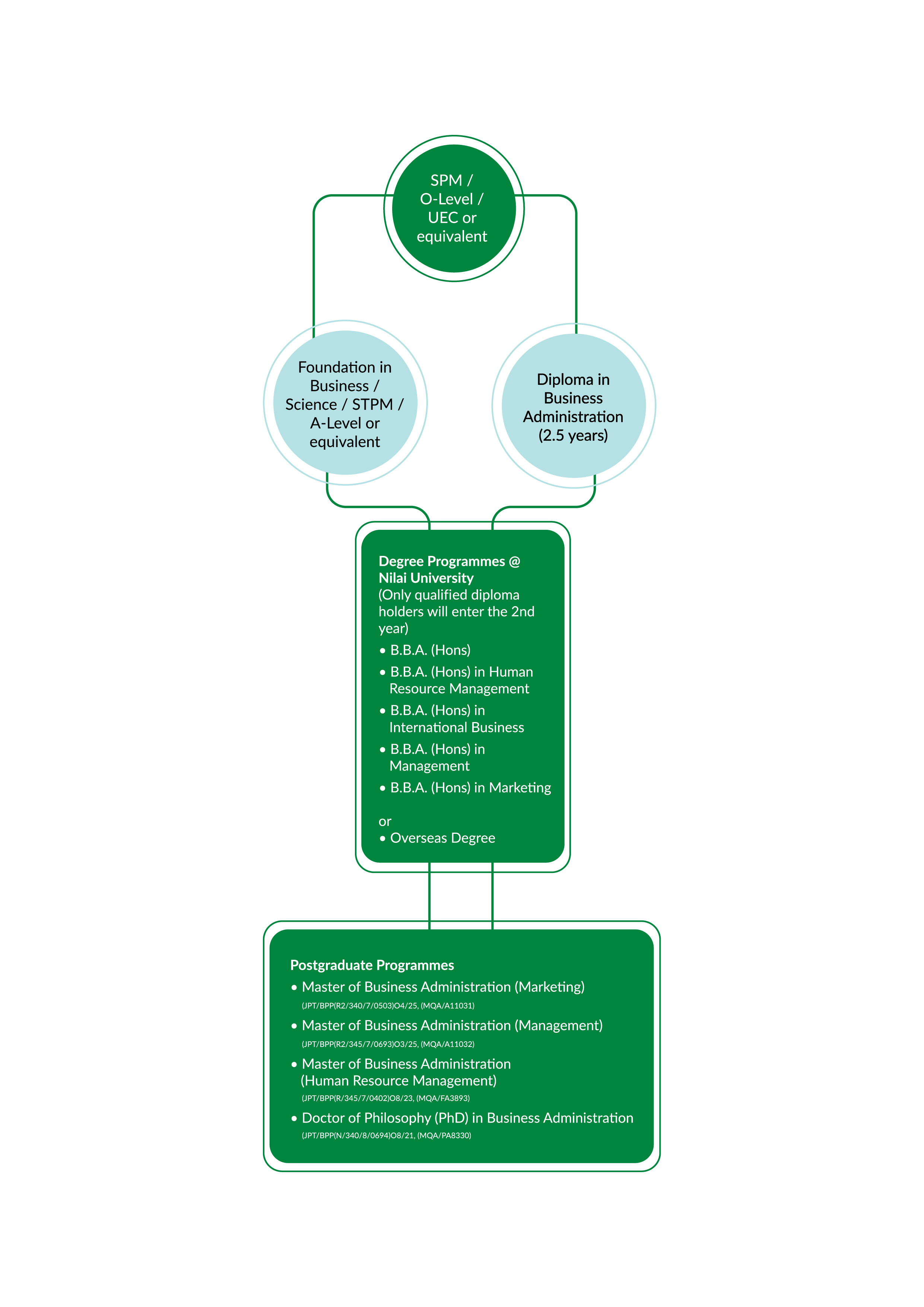 3 years
Duration of Study